SC company distributing PPE across the country, as demand surges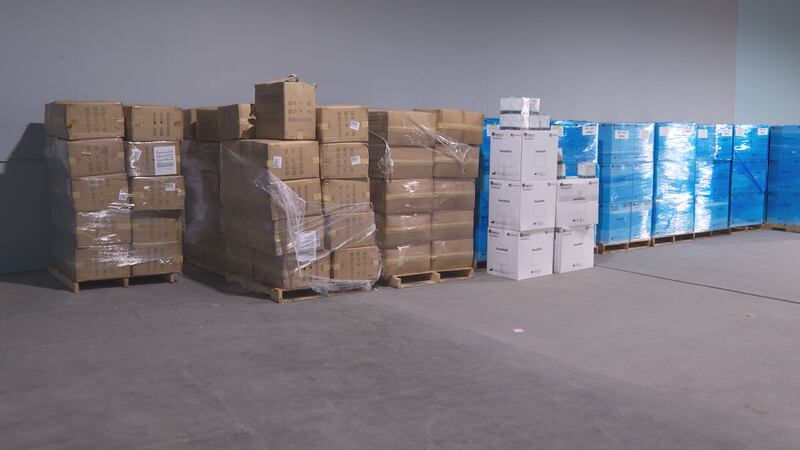 Updated: Dec. 4, 2020 at 7:31 PM EST
COLUMBIA, S.C. (WIS) - A South Carolina business that began in a garage in May has now grown into a top supplier of personal protective equipment (PPE) in the United States.
Rhino Medical Supply Inc. now operates a 12,000-square foot facility on Rosewood Drive in Columbia.
"We're extremely busy," said CEO Lance Brown. "In the last 14 days, we've sold over 600,000 masks."
Brown is a former Wells Fargo executive, but when the pandemic hit, he saw the need for PPE. He wanted to help the small hospital systems that were at the bottom of the line for supplies.
"The bigger states and bigger systems had a priority, like New York, they were getting everything because they needed everything," he explained. "If you were a larger hospital system, you had more allocation than a smaller system. So, part of our mission and what drives us was to be able to help the guy that needed the same level of protection but wasn't able to get it because the bigger guy was taking them up."
Rhino accepts orders as small as 60 and as large as 120,000. With the help of two U.S. manufacturers, they can supply masks, gowns, sanitizer, and even gloves.
"If it's U.S. made, you're not waiting 30 to 60 days to get something; it can ship out the same day," Brown noted.
The company is also giving back to those who can't afford supplies, and they just launched "PPE For Good." So far, they've donated 80,000 masks to schools in South Carolina and across the country.
"We donate children's masks because masks, in general, are challenging to find, and finding ones to fit little precious faces is even more challenging," said Brown.
As COVID-19 case numbers continue to rise across the country, Brown noted some facilities are facing PPE shortages. In fact, a recent AARP study reported nearly 20% of nursing homes only have a week's supply of PPE on hand. Rhino is working to help fill the gap and get these facilities the supplies they need.
While the pandemic put this South Carolina company in business, they don't want it to be the reason they stay in business.
"We pray like everybody else that COVID ends tomorrow," said Brown.
In four days this week, Rhino Medical Supply shipped out more than 600,000 masks. They expect that number to be in the millions come January.
Copyright 2020 WIS. All rights reserved.