Ohio spent nearly $1 million in outside legal fees fighting challenges to COVID-19 orders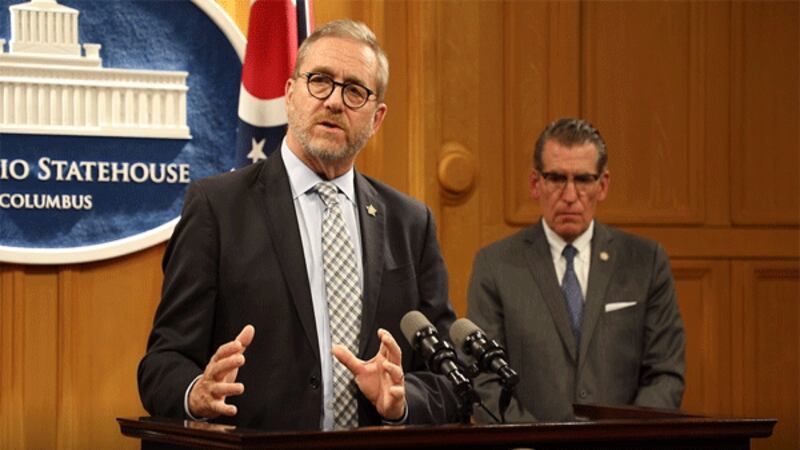 Updated: Nov. 19, 2020 at 5:08 AM EST
COLUMBUS, Ohio (FOX19) -With a new curfew set to go into effect Thursday, the state has spent nearly $1 million in legal fees so far this year for four outside law firms to deal for the COVID lawsuits challenging public health orders and litigation over liquor control violations, according to the Ohio Attorney General's Office.
The state's top lawyer says Gov. Mike DeWine didn't consult his office on various COVID-19 related orders and they are not enforcing the curfew.
"Governor DeWine has not consulted with the attorney general's office in drafting of his various orders. We have no plans to be involved in curfew enforcement," Ohio Attorney General Dave Yost tells FOX19 NOW.
Yost also represents state government agencies in court, including lawmakers.
He declined further comment Wednesday.
A total of 25 lawsuits have been filed against the state, Ohio's health director and local health departments by bars, restaurants, fitness centers, gyms, amusement parks, water parks and others, according to documents the AG office released to us via a public records request.
Yost's office has defended some of these cases, but so far other governmental agencies (whoever got sued) have paid $970,964 for outside legal work. Most of it, $915,605, was to the Columbus law firm of Zeiger, Tigges & Little, which charges $550 per hour, state records show.
The other firms charged less than half that.
Overall, the AG office has budgeted $1.44 million for the legal work, records show.
"The governor's office requested Zeiger for outside counsel and we obliged," said Bethany McCorkle, a spokeswoman for the AG's office.
A spokesman for Gov. DeWine, Dan Tierney, said Wednesday all of the administration's health orders seek to simply prevent the spread of COVID-19, spare lives and overburdening of the hospital system and, in general, just keep people safe until a vaccine is available.
The orders, he stressed, are only enacted after the administration has had extensive consultation with the governor's legal team and ensured Ohio's Constitution is followed.
"This is a very important set of legal cases. In some cases, it can be life or death. There's a life or death outcome," Tierney said.
We asked Tierney why the governor's office requested an outside law firm that charges $550 an hour.
That, he said, is a question for the AG office, pointing out that they appointed the outside counsel.
When we told him McCorkle said the law firm was appointed at the governor's office's request, he responded that while the governor office makes recommendations and requests for law firms, the AG office has the final decision-making power.
"Yes, there is a request but, ultimately, if they feel that is appropriate, they will make the appointment," he said, adding "it's their decision and their appointment."
"In our case, we made a recommendation, but they felt it was appropriate and made the appointment," he said. "There are checks and balances on these appointments."
In about six of the legal challenges, judges sided with businesses and said the state or health department overstepped their authority.
RELATED: Ohio water park closed by state COVID-19 health order can reopen now, judge rules
In most of the cases, judges either rejected them or they were withdrawn by plaintiffs when they became moot or were going to as DeWine's administration began lifting or changing stay-at-home or other orders and the economy began to start to recover.
More legal challenges could be filed when a new statewide curfew goes into effect Thursday night for three weeks to try to curtail the spread of coronavirus.
Gov. DeWine announces statewide curfew
The curfew comes at a time where hospitalizations and cases are at all-time highs in Ohio
According to the latest figures available from the state Wednesday, more than 312,000 people have been infected with COVID-19, and there have been nearly 5,800 confirmed and probable COVID-19 deaths.
A total of 22,846 people have been hospitalized throughout the pandemic, including 4,250 admissions to intensive care units.
Businesses will be asked to close their doors to customers daily at 10 p.m. and not reopen until 5 a.m. the following day.
Carryout and delivery services will be permitted.
Some essential businesses, such as overnight pharmacies and grocery stores, will be allowed to stay open to sell essential items, the governor said.
You can still go to work and go out if you have an emergency or need medical care.
You also can pick up groceries and carry-out meals and walk your dog.
The governor said the curfew will be loosely enforced.
Cars on roads will not be pulled over, he has said, but law enforcement officers may approach people they see gathering after curfew.
DeWine said Tuesday violators of the order could face a second degree misdemeanor charge, which would result in a $750 fine and up to 90 days in jail.
Yost's comments Wednesday that his office has no plan to enforce the curfew echo ones given to FOX19 NOW Tuesday by one of the most outspoken law enforcement officials in the state, Butler County Sheriff Richard Jones.
He tells us he won't be the "curfew police."
"I'm not going to be the mask police. I'm not going to be the curfew police. I'm not going to be the bar police, the restaurant police. It's all I can do just to be the police," he said in an interview Tuesday.
Jones predicted the new curfew will "do nothing, absolutely nothing."
"Everybody is fatigued and tired," said Jones. "The governor is a nice guy, [but] never reaches out to law enforcement. None of my fellow law enforcement people, we've never been talked to. We find out what is going on when we see him at the news conference.
"People are angry, and I don't care what the governor says, somebody will disobey or run. Bad things will happen from this curfew. It is easy when you are up on top of the mountain to make these rules and look down. It's a lot harder when you're down, looking up."
"I'm not going to have my employees go out and make arrests, or stop people."
Clermont County Sheriff Steve Leahy said "it will be business here as usual."
"The order has numerous exceptions and is supposed to serve as another tool if needed," he responded to us. "Depending on the situation, common sense and discretion will be how we handle any complaints or issues."
Dave Daugherty, spokesman for the Hamilton County Sheriff's Office, also said they would take it on a case-by-case basis.
"We are going to have a staff meeting in the morning and talk about it," he said.
Tierney reiterated DeWine's remarks Tuesday that the curfew will be loosely enforced and they are not expecting large numbers of arrests. He also they had conversations with law enforcement before the curfew was introduced.
'We aren't expecting law enforcement to go door-to-door on these types of orders or anything like that," he said. "Their role will be if they saw something, these health orders are designed so that you want people to comply with them. They are designed to keep people safe and healthy."
See a spelling or grammar error in our story? Click here to report it. Please include title of story.
Copyright 2020 WXIX. All rights reserved.