Shark receives successful spinal surgery from Ocean Springs surgeon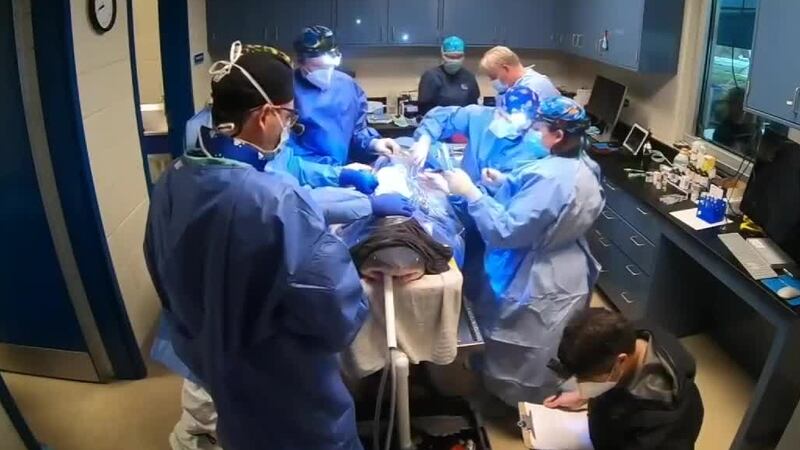 Updated: Nov. 16, 2020 at 7:57 PM EST
GULFPORT, Miss. (WLOX) - Bienville Orthopaedics is known for its specialty surgeons and state-of-the-art care. Their treatments are designed to get people back on their feet enjoying life again, but a recent request took one surgeon on a totally different path.
Stella the sand tiger shark was already a favorite attraction at the Mississippi Aquarium when veterinarians noticed the five-foot-long, 90-pound shark was having trouble swimming.
"She was swimming abnormally and had a curvature to her spine," said veterinarian Dr. Alexa Delaune.
X-rays revealed a disruption in her spine. Feeding was also becoming an issue. Pain medications weren't helping.
At that critical point, Delaune, vice president of veterinary medicine at the aquarium, worked with a team of specialists and decided to take drastic measures.
"So we thought let's do something that's never been done before. Let's perform spinal surgery on her," Delaune said.
That's when orthopedic surgeon Dr. Joseph Cox entered the picture. Cox is known for liking to be the first; for trying new and innovative procedures with his human patients, and he decided to accept the challenge of trying to help Stella, another big first.
"I knew it would be an extraordinary opportunity for me personally, and a way for me to give back to the community and to the Mississippi Aquarium," Cox said.
It took a lot of careful planning, because to their knowledge, a shark's spine had never been operated on before anywhere in the world. Dr. Cox delved into learning about shark anatomy.
"It's about as close to operating on an alien that you can get. Their physiology is way different from humans so there were a lot of things that had to be taken into consideration," Cox said.
There was also the dilemma of having Stella out of the water for surgery.
"You have to keep the surgical site dry, but you have to keep water on the gills so she can breathe. We had to build a special surgical table to meet her needs," Delaune said.
A team of about a dozen specialists, some from other regions of the country, worked on Stella for two hours.
"So we wanted to fix the spine from both sides with rigid construction to restore the integrity of the spine and give the shark something it could use to propel itself," Cox said.
With plates and screws now in place to stabilize the spine, Stella appears to be doing much better in her recovery tank.
"Right now she's doing better than I could've hoped for. She's swimming around, eating on a regular basis and acting like a regular shark, a normal shark," Delaune said.
They hope to have Stella out of recovery in a few weeks and back in the Ocean's Exhibit for everyone to enjoy again.
Copyright 2020 WLOX. All rights reserved.