COVID-19 survivors hold remembrance event at South Carolina State House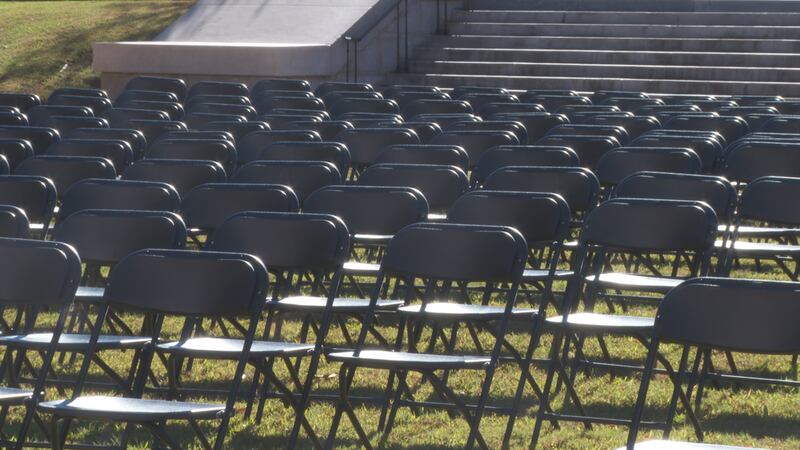 Updated: Oct. 30, 2020 at 6:36 PM EDT
COLUMBIA, S.C. (WIS) - A ceremony was held at the South Carolina State House Friday to share stories of those who've lost loved ones to COVID-19, as well as to call on lawmakers to do more to protect South Carolinians.
More than 300 empty chairs were placed in front of the State House, each representing a South Carolinian who's died from the virus. This comes as the death total in the state climbs to more than 3,600.
"We don't believe that people understand the impact that it's having on South Carolina," said Tiffany James, director of End Coronavirus SC. "When these lives are lost, people are taken away from their families, their colleagues, they're taken away from their friendship circles."
Seneca resident Summer Barrios was one of the speakers at the event and says she's one of the lucky ones. Her husband, Robert, almost lost his battle with the virus.
"We got a call that he almost passed away two times within 24 hours, and during that time, he suffered a collapsed lung, two bouts of pneumonia, ICU delirium," she explained.
Robert spent 81 days in the hospital and was sent home on September 16, but Summer says they still have a long road of recovery ahead.
"You can easily go from enjoying your life and living life however you want, but the next moment, you could be like us, wondering whether or not you're going to have a loved one for the holidays," she said.
Organizers of nonpartisan groups, End Coronavirus SC and COVID Survivors for Change, are calling on lawmakers to expand testing and create isolation spaces for those who can't quarantine at home.
"COVID-19 disproportionally affects black and brown communities, and so a lot of the times, they live in condensed places where they are not able to isolate," explained James. "We are asking our leaders if there are buildings that can be used, if there are schools that can be used, if there are hotels that can be used, to give funds, so we may be able to help these families."
As the holiday season approaches, James wants you to be careful.
"We are encouraging people to stay in small numbers, stay socially distanced, wear your masks when you are around people," she noted.
She's also encouraging everyone who's out in the community to get tested at least once a month, especially before holding any family gatherings.
Friday's event was livestreamed to limit the size of the audience. Organizers also believe COVID-19 should be top of mind when casting your vote on Tuesday.
Copyright 2020 WIS. All rights reserved.