Gamecock Football is Back: University officials, students gear up for first home game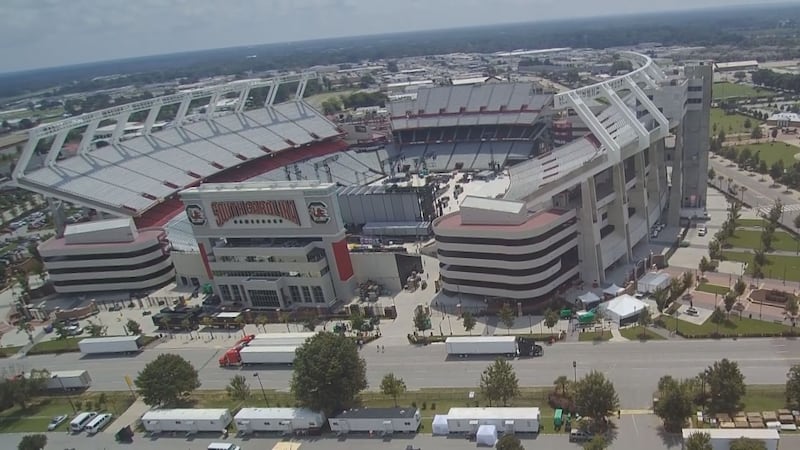 Updated: Sep. 25, 2020 at 7:09 PM EDT
COLUMBIA, S.C. (WIS) - Saturday is the day Gamecock football fans have been waiting for, with the University of South Carolina hosting its first home game against Tennessee at 7:30 p.m.
Normally, about 80,000 fans would be packing into Williams-Brice Stadium for a game, but because of COVID-19, only a fourth of the seats will be filled.
UofSC officials said 15,000 season ticket holders will be let into the game, along with a limited number of students, visiting team families, and Gamecock band members.
While some students are attending the game, others said they'd rather watch with a small group of friends at home.
"Just for me, I think it's still 20,000 people -- even though it's 25% capacity, that's still a lot of people so I just don't feel comfortable going," Avery Carriuolo, a sophomore, said.
For those heading to the game, things will look a little different.
Masks will be mandatory while entering and moving around the stadium and social distancing will be enforced in seating areas and common areas.
"I think it's just going to be different having no one in the stands -- having 20,000 people compared to 80 (thousand)," Parker Shepherd, a graduate student, said.
Other rules include the fairgrounds and Gamecock parking only being available to those with tickets. Tailgating is discouraged.
"I think most people are planning to tailgate at least some, but I don't think people will be going too hard," one graduate student said.
Other students said they're planning on going to watch party, a restaurant, or bar.
"Just kind of have a small watch party, hangout with our friends, have some beers and have a good time," Ryan Lennox, a senior, said. "Maybe go to the bars if we win, they close at 11 so who knows."
Steven Cook, president of the Five Points Association, said they are preparing for potential crowds.
"Frankly, we don't know what to expect to a certain extent -- usually Friday is a zoo, every restaurant and every bar," Cook said. "A lot of this enforcement is for better or worse fallen on businesses, and we have to police our customers throughout their time in our establishment."
UofSC President Bob Caslen called on students to follow regulations, saying in a letter to students: "Our actions on and off campus matter, especially this weekend and all Game Days this season."
Cook said the bars and restaurants have been working with police and will make sure to stay at 50% capacity.
The Columbia Police Department said officers will be enforcing all local and state ordinances during game day, which include ordinances prohibiting large gatherings or house parties.
UofSC students told WIS each university student is allotted one ticket for the season.
University officials said parking areas will open 2-and-a-half hours prior to kick off, and entry to the game will begin 2 hours before kickoff.
Copyright 2020 WIS. All rights reserved.