Experts offer explanation for dead fish found near Cherry Grove Beach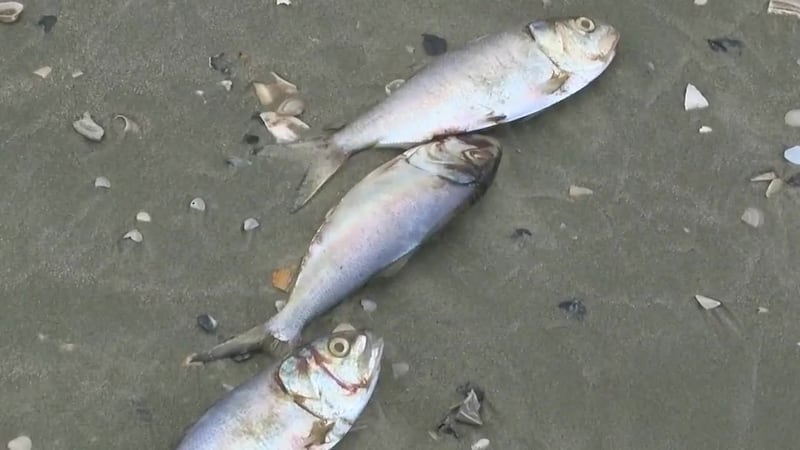 Published: Sep. 17, 2020 at 3:13 PM EDT
NORTH MYRTLE BEACH, SC (WMBF) - Nearly one week after hundreds of dead menhaden fish were found washed up on the shore in the Cherry Grove area, experts have explained what may have happened.
According to the Burroughs & Chapin Center for Marine & Wetlands Studies at Coastal Carolina University, the fish kill was associated with a period of low dissolved oxygen and salinity, which is the amount of salt dissolved in the water.
[RELATED: Beachgoers witness hundreds of dead fish along shoreline in Cherry Grove area]
The information from researchers was provided by the City of North Myrtle Beach on Thursday.
The research explained that the period of low dissolved oxygen is actually typical in the summer, and occurred between Sept. 10 and 11. Experts also said there were brief periods of hypoxia, a condition in which the body or a region of the body is deprived of oxygen at the tissue level.
Researchers stated the low salinity was an "unusual occurrence," which began on Sept. 9 and continued even with a lack of rain in the area. An algal bloom was also detected in the bottom waters of both the Apache Pier and Cherry Grove Pier in that timeframe.
Experts later said fish kills usually occur due to prolonged periods of low oxygen, because the fish cannot escape. They added that the algal bloom may have also contributed to the low oxygen levels, and could have been fueled by freshwater carried by a southbound current.
Reports came in about the dead fish on Sept. 11, as City of North Myrtle Beach crews spent several hours collecting the fish with a tractor.
Copyright 2020 WMBF. All rights reserved.