Another Richland Co. family says suspicious driver tried to lure children into car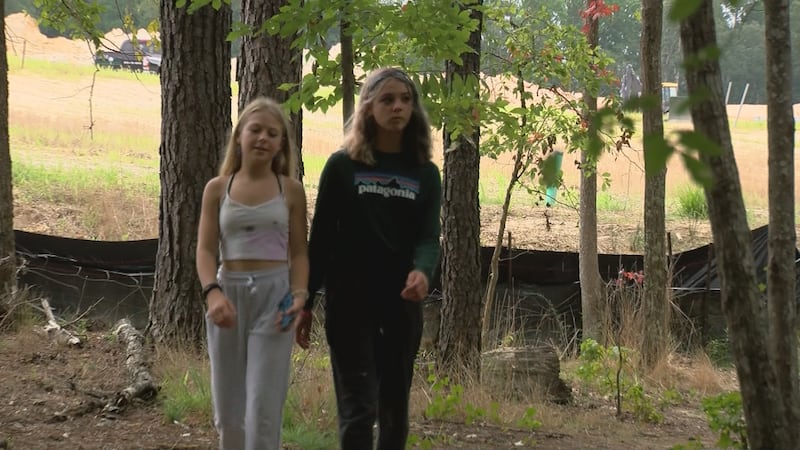 Updated: Aug. 16, 2020 at 5:03 AM EDT
COLUMBIA, S.C. (WIS) - Two Richland County families believe their children were approached by the same suspicious driver that deputies say tried to lure children into his car on two separate occasions.
Taelyn Simmonds, 12, and Sasha Cronin, 12, were taking a shortcut from their home in the Lake Carolina neighborhood of Woodleigh Park to Harborside around 10 a.m. Thursday.
It's a trip they take often, but they say this time, their walk turned into a sprint as they feared for their safety.
"l was really scared and about to cry honestly," said Simmonds.
They say a black vehicle pulled over on Sunny Crest Lane, and an older man with white hair wearing a blue shirt and khaki shorts got out of the car.
"He said, 'I lost my dog,' and we have both watched many crime scenes together and stuff like that, and we knew that wasn't right," explained Simmonds.
The girls say the man was alone and didn't have a name of the dog or a leash, so they immediately ran through the woods and didn't stop until they got to a friend's house.
"It was really scary," Sasha Cronin said. "The whole time we were hysterical because we couldn't believe this was happening to us."
Sasha's dad, Ryan Cronin, says he was relieved his daughter was safe and brushed off the incident -- until he learned Richland County deputies were looking for the driver of a similar vehicle because he was trying to lure children.
"That's when everything sort of came together, and we said this is possibly the same gentleman," he explained.
Around noon Thursday, just two hours after the girls' scary encounter and only four miles from their neighborhood, deputies were called to a home on Fox Cove Court.
A family says two children were approached by a black vehicle while riding bikes and a man asked if the kids wanted new lights for their bikes. He then asked them to meet him further down the road, but the kids ran back to their home.
PREVIOUS STORY | Deputies looking for driver of suspicious vehicle accused of trying to lure children
"It could have gone really sideways and different, so we're really thankful nothing did happen," Ryan Cronin said. "And we hope that the authorities can find this gentleman," said Cronin.
Cronin has filed a Crime Stoppers report. He's thankful for the girls' instincts and urges every parent to keep their kids a little closer.
Richland County deputies say another incident involving the same vehicle happened around 6 p.m. Wednesday in Lexington County. They say the driver tried to lure a 7-year-old into his car. However, police in Lexington County have not taken an official report regarding this incident.
Richland County deputies say the vehicle appears to be a Chevy HHR.
Anyone who can identify the vehicle or driver should call Crime Stoppers at 888-CRIME-SC (888-274-6372) or submit a tip online through crimesc.com.
Copyright 2020 WIS. All rights reserved.