FIRST ALERT: Rain chances quickly increase this week
Updated: Jul. 6, 2020 at 4:06 AM EDT
MYRTLE BEACH, S.C. (WMBF) - We're off to another warm and humid start this morning as you prepare to head out the door to start the new work week. Temperatures will quickly climb into the 80s this morning, only turning us muggy for those afternoon hours.
Highs today will reach the mid 80s along the beaches to the lower 90s inland. Look for partly cloudy skies as the chances for rain increase this afternoon ahead of a low pressure system.
Afternoon showers and storms will be possible today ahead of a low pressure system moving onshore into Florida from the Gulf of Mexico. That low pressure system will not only impact our weather for today but for the next several days as it is an area of interest for future tropical development.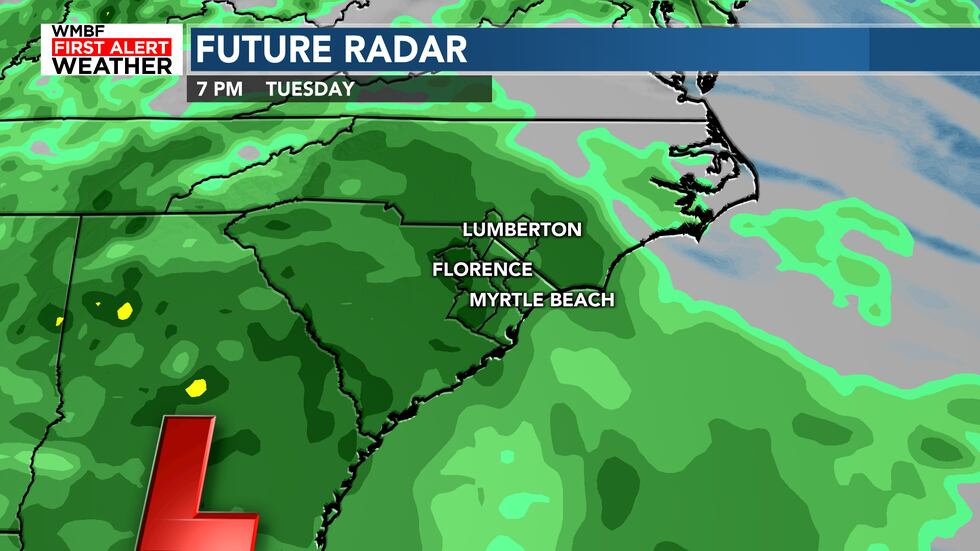 That low pressure will bring widespread showers and storms for Tuesday and Wednesday, canceling out any outdoors plans at this time. While there is still time for a change in the track of this low pressure, the fact that Tuesday and Wednesday look to be cloudy and gloomy does not look to change anytime soon. Look for highs in the low-mid 80s with mostly cloudy skies and breezy winds.
It's important to note that there are a lot of uncertainties that we are just now getting a better grasp on as more data comes in. As of now, if there were to be a chance of tropical development, it looks to happen as this low moves away from us and up toward the northeast. Of course, that could change over the course of a few hours with new data. The track and strength of the low will determine who sees what.
Stay tuned for and be prepared for rain this week, but also be prepared for and evolving and changing forecast throughout the next several days.
Copyright 2020 WMBF. All rights reserved.