FIRST ALERT: Gusty winds and heavy rain threat returns
Updated: May. 26, 2020 at 5:56 AM EDT
MYRTLE BEACH, S.C. (WMBF) - The clouds continue to filter in today while the rain chances remain scattered this afternoon. Highs will top out in the upper 70s for both the beaches and inland locations today. Look for the best chances of rain to arrive this afternoon ahead of this low pressure system.
That low pressure system is arriving from our south and will pump in plenty of tropical moisture by Wednesday. The National Hurricane Center only gives this system a 20% chance of developing into something with tropical characteristics but none-the-less, heavy rain looks likely by Wednesday.
The Storm Prediction Center highlights our area for a low chance of severe weather tomorrow. While the threat is low, gusty winds will be likely along with that heavy rain. A strong storm or two cannot be ruled out and something we will need to keep an eye on throughout the day on Wednesday.
Regardless of the storm strength, the rain will come down in these showers and storms through Thursday morning. The downpours will be heavy rainmakers with most spots approaching 1″ to 2″ through Thursday morning.
The heavy rain threat will begin to leave our area by Thursday but the afternoon storm chances will continue. Scattered storms, mainly in the afternoon, will continue Thursday, Friday and Saturday. We will be muggy with heat index values climbing into the 90s. A cold front will move through Saturday and will try to bring some cooler weather as we transition into the end of the weekend and early next week.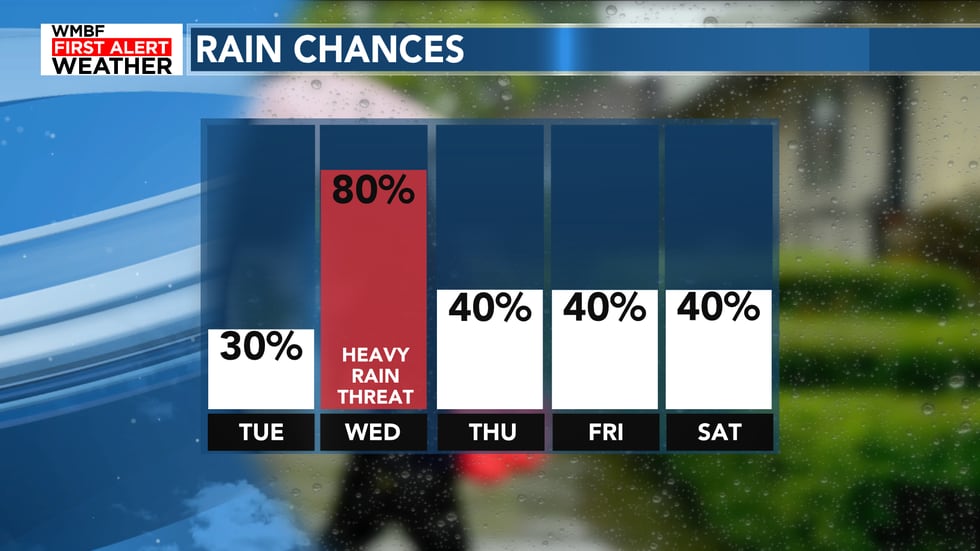 Copyright 2020 WMBF. All rights reserved.