'Disturbing trend': Horry County police email reveals issues with schools reporting threats
Published: Dec. 12, 2019 at 11:58 PM EST
HORRY COUNTY, S.C. (WMBF) - Horry County police say they have a problem with how long it takes some schools within the district to report threats.
WMBF News obtained an internal email sent to HCPD officers from Horry County Police Deputy Chief Lance Winburn regarding potential school threats.
The timestamp shows it was sent Wednesday at 7:48 a.m., just as schools across the county were starting for the day.
That email states:
"There is a disturbing trend in regard to threats to schools or threats to students and faculty. For whatever reason, some of our schools are not calling for police until they have already investigated for themselves and sometimes already disciplined students and sent them home. This dangerous lack of response has been brought to our school district's attention, yet still occurs. When you are called to these type incidents to generate reports... please include in your reports the time of the incident, when the school was notified and when police were notified."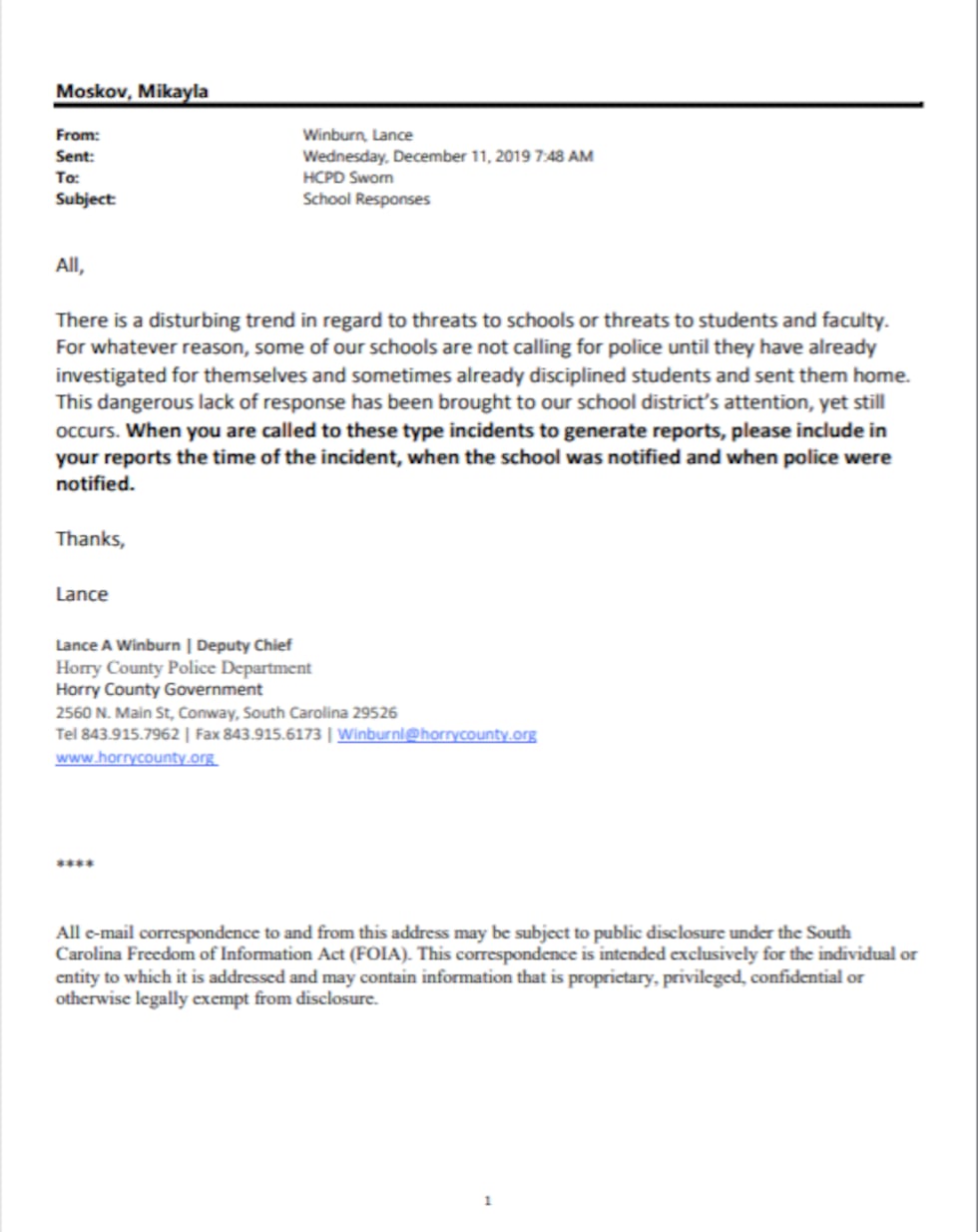 In response to the internal email, HCPD issued a statement to WMBF News:
"Horry County Police Department is working in continued partnership with Horry County Schools to ensure all threats to schools or students are addressed quickly and efficiently. We will continue to educate personnel and adjust response protocols as needed to ensure the safety of our students and educators, which is critical for the Horry County Police Department."
WMBF News requested police reports from the beginning of December that involved schools in the county. We found four that involved threats at schools.
One report states the Carolina Forest High School principal received a phone call on Dec. 5 from a concerned parent regarding a school threat being made over Snapchat. The report shows the police department wasn't notified about the threat until the following afternoon.
In another police report, it states that a person made a threat on a school bus on Dec. 6. It shows that the suspect said, "Pull up to my house and you'll get shot," then he got off the bus. The police were notified about the situation three days later. The suspect has since been suspended from school pending an investigation and three weapons were found inside the home and taken into police custody.
It's not known if these reports sparked the internal memo at HCPD. But it comes less than a month after Superintendent Rick Maxey issued a public service announcement calling for people in the community to speak up if they see something.
WMBF News spoke to a grandmother of a Horry County student who believes that schools shouldn't wait to alert police to possible threats.
"That should be reported right away and they should let the parents know because we all need to know and even the grandparents because it's just ridiculous because you never know when something is going to happen," Jo-Ann Sarcone said.
WMBF News also reached out to Horry County School Board members for a comment, the school system released the following statement:
"HCS continues to work closely with our local law enforcement partners regarding various issues/topics to include school threats. We will continue to educate and review threat protocols with our 161 school administrators (principals and assistant principals) to help ensure the safety of our students, staff and school campuses."
Copyright 2019 WMBF. All rights reserved.