Horry County lawmaker hopes to expand access to overdose-reversing drug
Published: Nov. 26, 2019 at 11:15 PM EST
COLUMBIA, S.C. (WMBF) - South Carolina lawmakers are working with first responders and physicians to battle the opioid epidemic.
The Horry County Coroner's Office said it's expecting there will be significantly more deaths in 2019 than there were in 2018 from overdoses.
This map shows how many times the South Carolina Department of Health and Environmental Control says Narcan has been administered to people experiencing an opioid overdose in Horry County so far in 2019.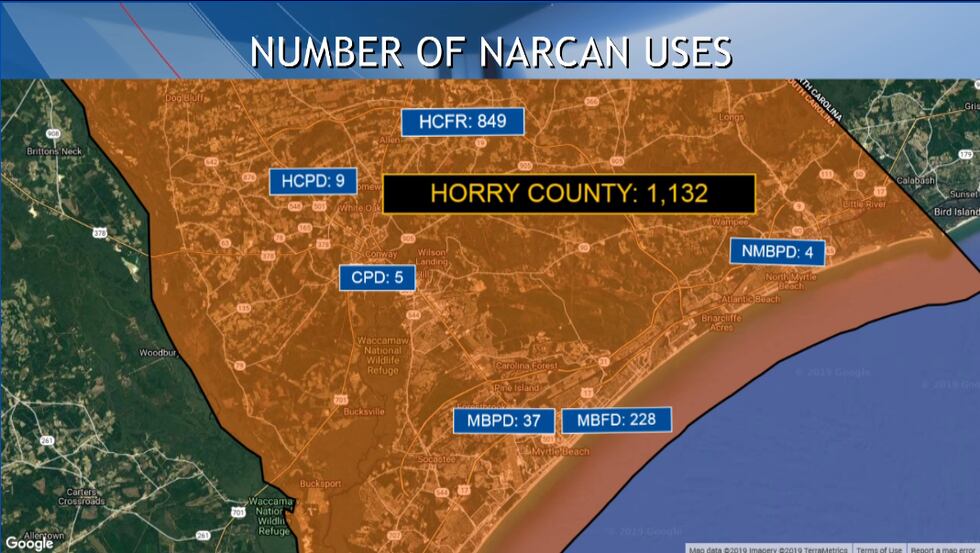 Below is the number of Narcan doses given by six different agencies from Jan. 1, 2019 - Nov. 26, 2019:
Horry County Fire Rescue - 849

Myrtle Beach Fire Rescue - 228

Horry County Police Department - 9

Myrtle Beach Police Department - 37

Surfside Beach Police Department - 0

Conway Police Department - 5

North Myrtle Beach Police Department - 4
When you add all of these departments together, there have been 1,132 doses given year-to-date by six agencies across the county.
Across the state, officials with the South Carolina Department of Health and Environmental Control said Narcan has been administered more than 8,500 times in 2019.
This is something that hasn't always been the case.
"I don't even remember hearing of Narcan up until about five years ago," said Capt. Jonathan Evans with Myrtle Beach Fire Rescue.
That's because, in 2015, Narcan started to become more accessible to first responders through the South Carolina Opioid Prevention Act. Through this, the Law Enforcement Officer Naloxone (LEON) program was created. It focuses on law enforcement officers who are frequently the first emergency responders to arrive on scene and response time is critical to saving lives. LEON's goal is to provide comprehensive training to law enforcement agencies across South Carolina that focuses on the identification, treatment, and reporting of drug overdoses attributed to opioids.
"I think the use of Narcan is a very encouraging sign that some of these policies are working in saving lives," said South Carolina Rep. Russell Fry.
Fry has pre-filed a bill designed to add even more access to the overdose-reversing drugs for medical professionals, allowing a doctor to prescribe Narcan or something similar to a patient who's dealing with addiction to have with them should they need it.
Fry said this is all part of a much larger conversation on how to handle the opioid epidemic across the nation.
"We're going to continue with those policies and we're going to continue to focus on this epidemic on South Carolina and looking at the successful way that communities have addressed this or are addressing this," said Fry.
"I think it's a great bill, we open that we get more help with this. We're doing a lot of things on our end to help with this opioid crisis but certainly, for right now this is a very valuable tool to have," said Evans.
The pre-filed bill will be heard by state lawmakers sometime after the state legislative session starts in January.
Copyright 2019 WMBF. All rights reserved.