One HOA rule requires real estate agents to break state law
Published: Sep. 13, 2019 at 6:19 PM EDT
MYRTLE BEACH, S.C. (WMBF) - Frustration and confusion are just a few of the feelings realtor Rod Smith feels as he stands in a room filled with 'for sale' signs.
All the signs are individually customized for different homeowners associations.
HOAs have rules that often include what types of signs residents can place in their yards. When it comes to selling a property in one of these communities, realtors are often not allowed to use their own sign. Instead, the real estate company has to purchase a sign from the association, often for close to $100.
Chicora Advantage, the business where Smith is the vice president of sales and marketing, has more than 170 custom signs for neighborhoods from the Long Bay Club to the Wild Wing Plantation to Avalon at Carolina Forest.
Smith said Chicora has more HOA signs than their own.
"When you're looking at something that is $185, that is five times the amount that we are paying, which is crazy and it's a one and done. So, until we get another listing in that community, it's a waste of money. I don't think homeowner associations need to be in the sign business," he said.
Money, however, isn't the source of Smith's frustration over the HOA signs. The real issue, he said, is that most signs the HOAs sell do not meet state law.
South Carolina has a law that requires the name of the real estate company and the name of the company's franchise to be included when advertising real estate.
"It's real for consumer protection because the real estate commission wants to protect the consumer, so they know who they are contacting," Smith said.
Many of the signs HOAs provide to real estate agents list the community's name and a phone number but not the real estate company.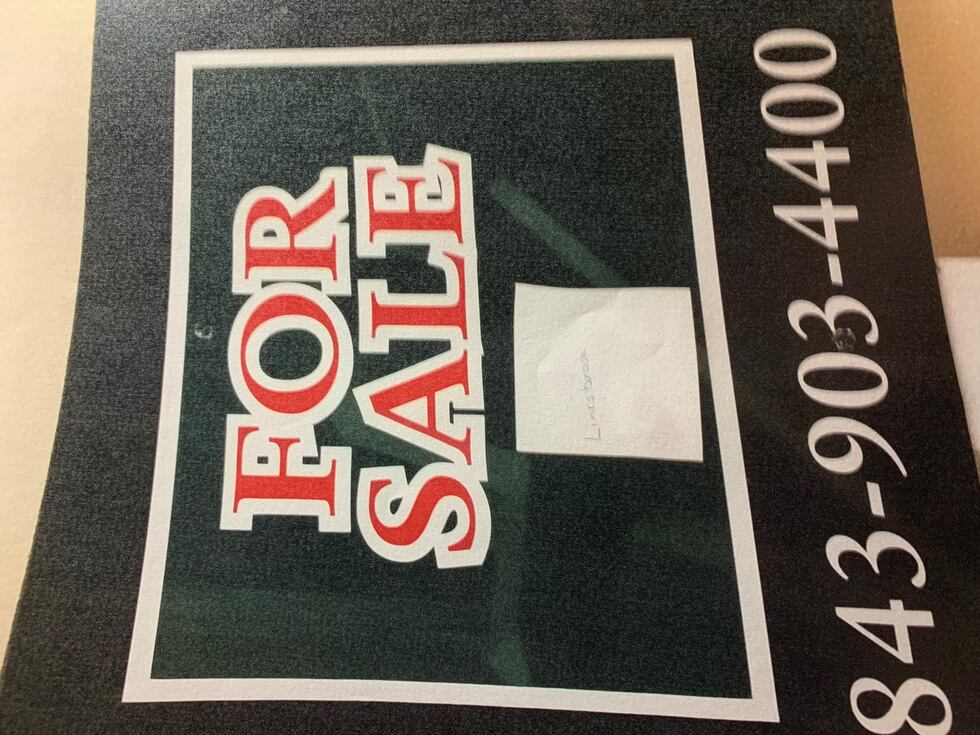 "You can actually be reprimanded and fined by the Real Estate Commission if you don't do this but if you go into one of these communities and they tell you that you must put up one of their signs, it really is a problem for the real estate agent because that's requiring us to break the law," Smith said.
He added this has been a problem for years but is increasing in the Grand Strands as more communities with HOAs are added.
S.C. Rep. Lee Hewitt introduced a bill earlier this year that would make sure HOA sign rules don't supersede state law.
House Bill 3203 states, "regardless of any restrictive covenant….a homeowner or tenant may display any 'for sale sign' on the premise of any real property intended to be sold."
Currently, the bill is waiting for a full committee vote before going to the floor for a full vote. Hewitt said this isn't the first time the issue has been brought up and received some push-back.
"There is kind of two forces there that cause a problem because, one, people don't understand it and two they just want to do what their constituents want," Hewitt said, explaining state legislators' issues with the bill.
Hewitt explained HOAs are mostly just along the coast, so legislators from areas without HOAs don't always understand the need for the bill.
The representative also said HOAs have a strong lobby in Columbia.
"The biggest push-back is the HOAs want their rules and regulations to prevail, which is an interesting concept because are you going to make HOA rules and regulations where they can be stronger than state law," Hewitt said.
He said the signs are just one talking point and he believes the HOA lobbyists are fearful of other regulations that could follow if this bill passes.
"On a state level, it's just the concept of, you know, trying to make an HOA regulation statewide cannot be stronger than state law and that is a concept that I guess we will continue to fight," Hewitt said.
Both Smith and Hewitt said they are not against HOAs, they just don't want to risk getting fined from the state when they sell a home in a community with sign regulations.
"Homeowner associations are good. Typically they're going to allow the property values to stay high in a neighborhood because they have certain rules and regulations, but there can be an overreach and in this case the signage is an overreach," Smith said.
Copyright 2019 WMBF. All rights reserved.