South Carolina ranks as one of the top states for opioid distribution
Updated: Jul. 19, 2019 at 7:06 PM EDT
HORRY COUNTY, SC (WMBF) - More than 1.8 million pain pills were distributed throughout South Carolina from 2006 to 2012.
The state received the 3rd highest concentration of opioid prescriptions, according to an analysis of a newly publicized Drug Enforcement Administration (DEA) database.
The Washington Post analyzed the database that tracks more than 76 billion pills from manufacturer to distributor to pharmacy during the seven-year period.
The paper found 75% of the pills distributed across the county came from six companies. It also found three companies were responsible for 88% of the opioids.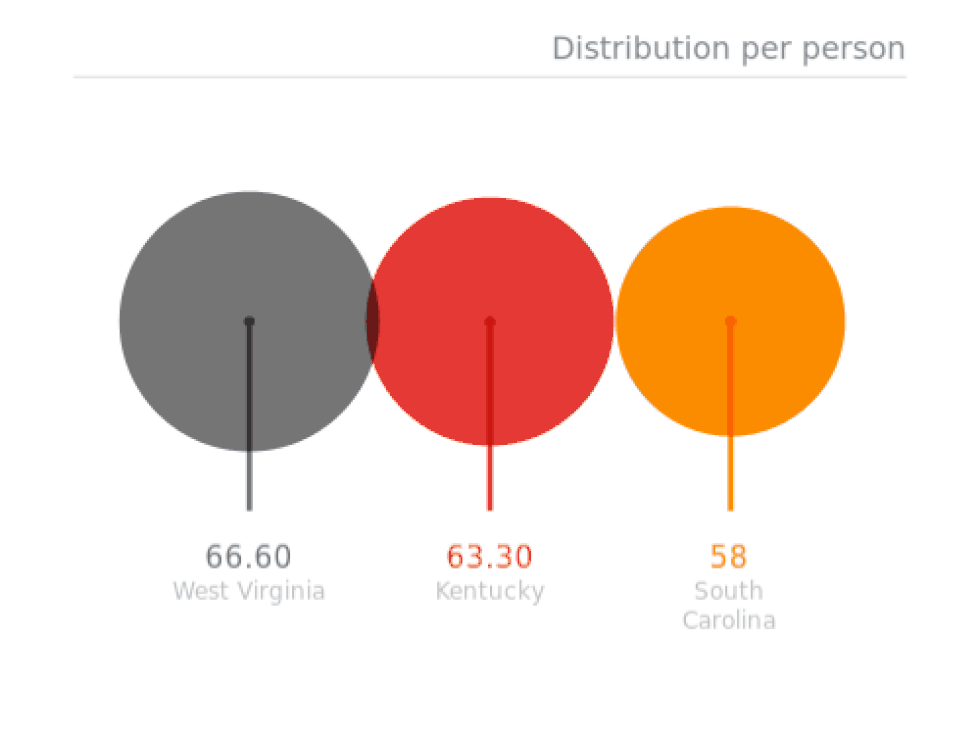 South Carolina distributed 58 pills per person per year from 2006 to 2012. Only West Virginia and Kentucky ranked higher.
Within the state, Charleston County distributed more than 200 opioids per person on average.
Horry County received 6% of the state's opioids, an amount equivalent to around 54 pills per person each year.
While around 40 million less opioids were distributed in Florence County, the number per population was higher at 63 pills per person.
Georgetown, Marion and Marlboro County accounted for 1% of the state's total pain pill concentration.
Cardinal Health, CVS and Walmart distributed more than 50% of the pain pills throughout Horry County.
The top pharmacies to supply the prescriptions were Walgreens and Walmart in Conway, Walgreens in Murrells Inlet, Walmart in Surfside Beach and the Powers Pharmacy of Loris.
John Coffin, the executive director of Shoreline Behavioral Health Services, said he was somewhat surprised by South Carolina's rank but also thinks things have changed since 2012, the year the data ends.
"That's a little bit eye-opening but also a lot has changed since then and the prescribing practices are different," Coffin said. "In 2012, here at Shoreline, we wouldn't have even known there was a heroin epidemic. It was around 2014 that we suddenly saw this dramatic spike."
He pointed to the increase in prescription guidelines and an increase in opioid awareness both by doctors and the public.
A 2017 study funded by Pacira Pharmaceuticals lowers South Carolina's rank to 13th in the country for concentration of opioid prescriptions.
The study also uncovered a 6% decline in the number of opioids prescribed between 2015 and 2016 but that number was still at 11.7 billion, a number the study said is enough for each American to have 36 pills.
Lawsuits have been filed across the country against pharmaceutical companies for their promotion and sales of opioids that led to addiction.
Horry County field a case earlier this year and named Johnson & Johnson, Walgreens, Rite-Aid of South Carolina and CVS Pharmacy as a few of the defendants.
"Overdoses, addiction, hospitalizations, and other negative effects of the opioid epidemic in Plaintiff's community are ongoing," court documents state.
Marion and Dillon County are also involved in lawsuits against drug manufacture companies.
More than 1,000 people died of an overdose in South Carolina in 2017, according to the state's Department of Health and Environmental Control (DHEC).
The number of overdoses caused by opioids decreased in Horry, Georgetown, Marion and Marlboro County from 2016 to 2017. However, in Florence County and across the state, the number of deaths increased.
"Nationally, what the message is, it seems to go up and down. We don't think we're out of the woods yet and literally it has occupied our attention because of the risk of accidental death. It is probably the most concerning of the disorders we treat," Coffin said.
Coffin explained the problem he sees in Horry County now is a shift from opioids to heroin.
He said the data from the DEA will be helpful in continuing to tackle the problem.
"It's good to know because we can use that data to figure out where that problem originated and help us figure out the best response," Coffin said.
He also said beyond the data, the stigma around addition needs to continue to be tackled.
Copyright 2019 WMBF. All rights reserved.