NCGOP Chairman, others indicted in federal corruption probe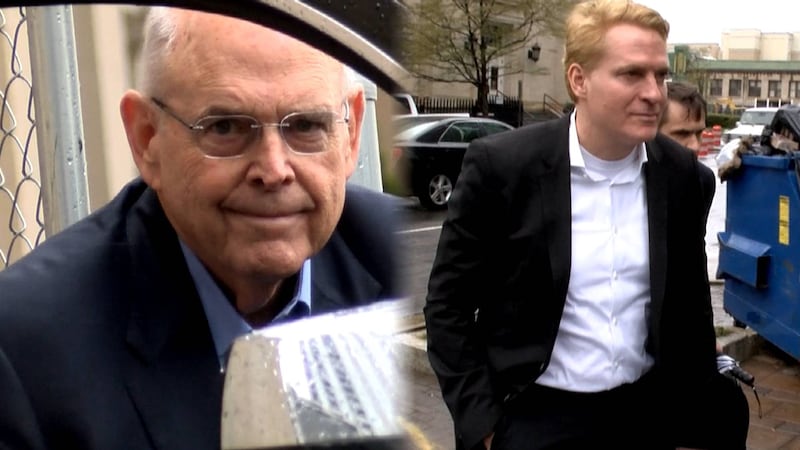 Updated: Apr. 2, 2019 at 8:37 PM EDT
CHARLOTTE, NC (WBTV) – A federal grand jury has indicted multiple people in connection with an ongoing investigation involving donations made to the North Carolina Republican Party.
NCGOP Chairman Robin Hayes, who spent a decade in Congress representing a district that stretched from the Charlotte area to Fayetteville, surrendered himself to authorities and made a first appearance at the US Courthouse in Charlotte on Tuesday.
An indictment unsealed in court on Tuesday morning accused Hayes, Durham-based business owner Greg Lindbergh and two of Lindbergh's associates of directing illegal political donations to North Carolina Insurance Commissioner Mike Causey in an effort to bribe him.
Causey, who was actually working with federal authorities, is not charged in the indictments.
All four men appeared before a federal judge on Tuesday and pleaded not guilty. Each man turned himself in to the FBI prior to Tuesday's hearing and was released on a $100,000 unsecured bond.
Related: NCGOP took nearly $2 million from donor under FBI investigation, gave some to Causey campaign
Hayes' lawyer responded to the five-count indictment.
"Robin Hayes steadfastly denies the allegations made against him in this case. After a long and distinguished career in public service at the local, state and federal levels, Robin volunteered his time helping to support the party and candidates for office in North Carolina. We look forward to a swift conclusion to this matter, and to clearing his name," Kearns Davis said.
An attorney for Lindberg issued a brief statement following the court appearance.
"Greg Lindberg is innocent of the charges in the indictment and we look forward to demonstrating this when we get our day in court," the attorney said.
The indictment alleges that the donations were made "in exchange for the removal of NCDOI's Senior Deputy Commissioner, who was responsible for overseeing regulation and the periodic examination of" one of Lindberg's companies
The US Attorney said the investigation, under taken by the FBI since at least August 2018, shows that Lindbergh, his consultant John Gray, Eli Global (another Lindbergh venture) executive John Palermo and Hayes worked on devising a plan to funnel millions of dollars to the insurance commissioner anonymously.
Hayes also faces three charges of lying to the FBI during an interview in August 2018.
Hayes, Lindbergh, Gray and Palermo are charged with conspiracy to commit honest services wire fraud and bribery concerning programs receiving federal funds and aiding and abetting. Hayes is also charged with three counts of making false statements to the FBI.
Greg Lindberg has been under the microscope of federal investigators for white collar crimes related to his business empire and, later, for contributions he made to politicians in North Carolina.
A portion of Lindberg's contribution to the NCGOP—$240,000 –was then forwarded to North Carolina Insurance Commissioner Mike Causey, who is also a Republican.
In October, NCGOP Executive Director Dallas Woodhouse confirmed to WBTV that the party sent Causey the money but said it was legal because, he said, the party steered the money to Causey after Lindberg made the contribution.
Related: Insurance commissioner recorded meeting with donor, NCGOP chairman for FBI investigation
In March, WBTV reported that Causey made a secret recording of a meeting between Lindberg, an associate, Causey and Hayes.
During the meeting, multiple sources familiar with the recording told WBTV, Lindberg and Hayes reached an agreement for the NCGOP to pass $240,000 of Lindberg's contribution to Causey's campaign.
In addition to making political contributions, Lindberg also had a business relationship with former senior officials at the North Carolina Department of Insurance, including former Insurance Commissioner Wayne Goodwin, who lost to Causey in the 2016 election and who is now the Chairman of the North Carolina Democratic Party.
WBTV first reported in October that Goodwin worked for Lindberg, along with two other former NCDOI employees.
Related: Goodwin worked for donor under FBI investigation after leaving Insurance Commissioner post
Goodwin has declined to provide details of the work he did for Lindberg.
Copyright 2019 WBTV. All rights reserved.