Witness describes fire at Ocean Creek Resort: 'The whole sky was just orange'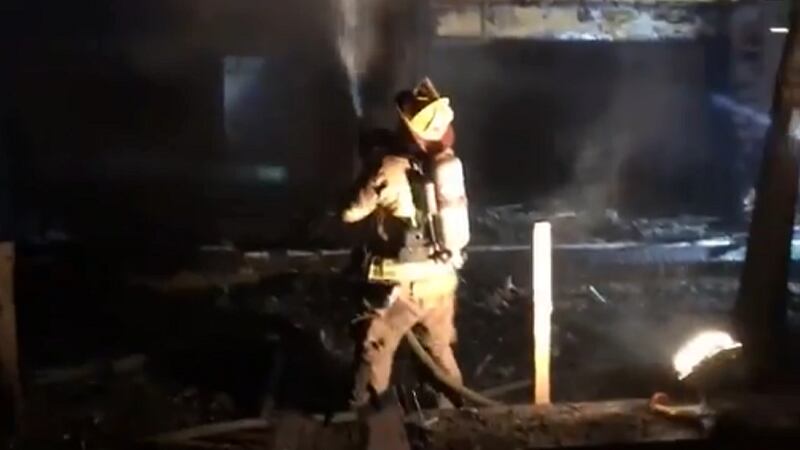 Published: Feb. 25, 2019 at 8:27 PM EST
NORTH MYRTLE BEACH, SC (WMBF) – The man charged in connection with Friday's fire at the Ocean Creek Resort in North Myrtle Beach told police he "intentionally set the fire," according to an arrest warrant.
James Clark Rusenko, 32, remains in jail Monday after being charged over the weekend with 21 counts of second-degree arson.
The three-alarm fire broke out Friday night, leading to 82 firefighters from three different agencies responding. No injuries were reported. However, the resort's Lodge 1 was engulfed in flames.
Evan Marcedo was staying in another building nearby. He heard shouting and immediately knew something was wrong.
"As soon as we looked outside, the whole sky was just orange and there were ashes everywhere," Marcedo told WMBF News.
Afraid the fire would spread to their building, his stepfather started packing.
"I put my shoes on. I told him I'm going to help them. I didn't hear a fire alarm so I pulled one in our building and went to the fire. As soon as I got by the pool I saw this one unit just glowing red," Marcedo said.
He made a few laps around the building, helping people to safety.
"I didn't know who was tapped so I ran because I just wanted to help some people. I knew they're already going to lose everything. I didn't want them to lose anything else like their life or anything," Marcedo said.
According to the arrest warrant, the suspect started making "spontaneous utterances" that he had intentionally set the fire.
Rusenko allegedly told police he set the curtains in his apartment on fire with a lighter. The blaze then spread to the 20 other apartments, the warrant states.
"You're looking at a lot of property damage but no death so that's almost a miracle in itself that you have 21 units and no one got hurt," said 15th Circuit Solicitor Jimmy Richardson. "Each charge could carry a mandatory minimum of three years and it could go up to 25 years."
Richardson said Rusenko will most likely serve those years concurrently, so if convicted, he's looking at around 25 years in prison.
Copyright 2019 WMBF. All rights reserved.