Victims of Florence ambush receive donations, new crisis group announced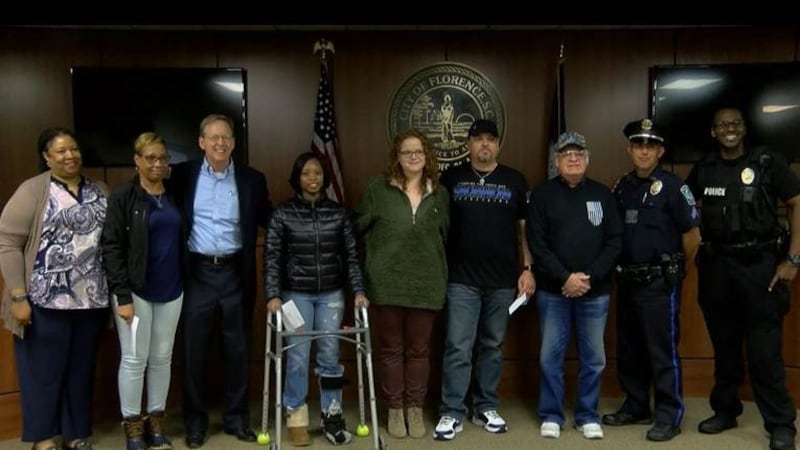 Updated: Feb. 22, 2019 at 3:52 PM EST
FLORENCE, SC (WMBF) – Gratitude remains strong for the police officers and their families who were impacted by the deadly ambush in Florence.
On Friday, those who survived the Oct. 3 shooting and the families of those who lost their lives, were presented with donations from the community they serve and protect.
"We continue to lift you all up and what you're doing for our community and leading and serving in a special way and so just know that the prayers of the people are surrounding you and continue to recognize what you've done for us," said Rev. Chris Handley with Helping Florence Flourish.
The organization presented checks Friday to the officers and families. Each of them received $745. It's what Handley called a small token for their service.
"It's from citizens in this community that care about you all and what's happened to you and I want to continue to encourage you and support you," Handley said.
The surviving officers were there to accept the organization's symbol of appreciation.
Florence Police Lt. Travis Scott, who just returned to work last week, said the continued support is helping him cope.
"It feels good. It gives me more courage and the strength to continue to go on and to represent Florence city," Scott said. "In a sense, I am telling everybody I am getting back on the horse, getting back on the saddle and getting back to helping people."
The mother of Florence County Investigator Farrah Turner and widow of Florence Police Sgt. Terrence Carraway attended the presentation since their loved ones could not.
Carraway lost his life the night of Oct. 3. Turned died from her injuries weeks later.
Friday's event was not only about recognizing the heroes, but also doing more to help those impacted by future tragedies.
Helping Florence Flourish announced a new mission to create what's known as the Pee Dee Crisis Response team.
"Our goal is to build a community group of chaplains or volunteers so if or when we have this crisis again, we will be prepared," said Tommy Campbell, the Pee Dee Crisis Response coordinator. "The citizens of Florence have great love and support and the outpouring was great back in October and we just want to capitalize on that."
Campbell said he realized the need for a support group when they didn't have a local group available following the shooting, which forced them to reach outside of the community.
"We just need to have boots on the ground as quick as we can," Campbell said.
The group will work to meet the needs of any organization following any kind of tragedy for as long as their support is needed.
"It seems like over time, things fade away in the background and that hurt is still there. So, we want to come up with a long-term solution to help officers, first responders, even people in the community," Campbell said.
The organization is still in the planning stage, but about 39 people are already interested in volunteering. Seventeen of them are already trained in crisis incident stress management.
For those without training, Pee Dee Crisis Response will provide that opportunity.
"It's important because when something occurs, when someone is effected directly as a result of what happened in October, they will be wounded for life, those are scars that will never be healed," Campbell said.
Click here for information on how to become in involved with the Pee Dee Crisis Response
Copyright 2019 WMBF. All rights reserved.