3 unclaimed veterans receive final salute they deserve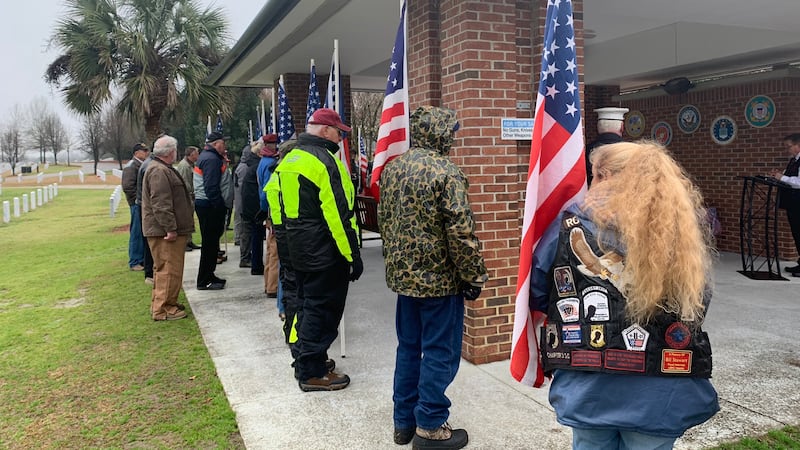 Updated: Feb. 20, 2019 at 4:37 PM EST
FLORENCE, SC (WMBF) - Three American heroes were laid to rest Wednesday alongside their fellow military comrades at the Florence National Cemetery.
The men were given the final salute they deserved with the help of The Missing In America Project.
Since its founding in 2007, the Missing In America Project has found and identified the remains of more than 3,000 veterans across the United States.
The organization's mission here in South Carolina started in 2012, said Larry Truax, South Carolina State Coordinator for the organization.
Truax contacts coroners across the state to find the remains of unclaimed veterans. Sometimes those cremated remains sit in a coroner's office for years before receiving a final resting place.
"These guys are like brothers, like family, when I find them it's a great thing, you know? But when I get them, I'm allowed to take them and bring them here and inter them in with their other brothers and sisters, you know, it's a great feeling," explained Truax.
The men laid to rest Wednesday, A1C Michael Cooper of the U.S. Air Force, PFC. Roy Lee Benson of the U.S. Army and Sgt. Allen Wigfall of the U.S. Marine Corps, were all discovered at the Charleston County Coroner's Office, Truax said.
The Missing In America Project has also provided burials for veterans from Horry, Georgetown and Beaufort Counties.
When asked why he remains committed to giving unclaimed veterans the funerals they deserve, Truax replied, "For three reasons, God, family and country."
While the veterans didn't have family members to give them the honors they earned while protecting our freedom, they still received a dignified final salute with several veteran organizations attending their service. Members of the Veterans Honor Guard of Florence, the Myrtle Beach and Florence Patriot Guard Riders, American Legion Riders, Rolling Thunder and Army National Guard all paused to honor their service to our country.
Copyright 2019 WMBF. All rights reserved.