She Thrives: Darlington County educator's work reaches beyond the classroom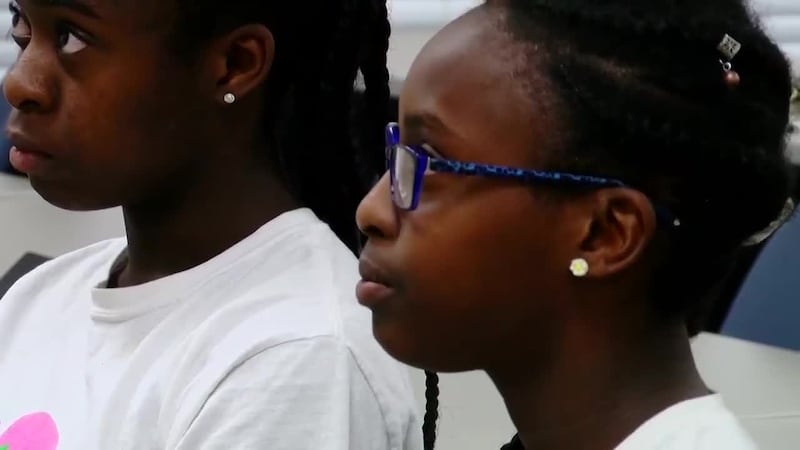 Updated: Feb. 13, 2019 at 6:48 PM EST
DARLINGTON COUNTY, SC (WMBF) – Dr. Zenobia Edwards is an educator, but to the people in her community, she is more than that.
She is a problem-solver and her commitment to youth has earned her praise. She believes every encounter, every conversation and every experience is a pathway to success.
"When I walk through the door every day, I want to create something. I want to solve issues for students because I know that there's going to be some," Edwards said.
Edwards said it's her job to remove any obstacle in a student's path and it's a job that she doesn't take lightly.
It's a quality that people immediately notice when she walks down the halls of the Darlington County Intervention School where she serves as an administrator.
Edwards has deep roots in Darlington County, where she was the granddaughter of tobacco farmers and the daughter of two parents who were also educators in Darlington.
"They were the kind of teachers that when students didn't understand, or learn things, they would bring them home for extra practice, so our home was always filled with kids from school. My dad was a coach," Edwards said.
She said when it was her turn to get into education, she wanted to change the stigma associated with alternative schools.
"I wanted something where I felt like those students could feel a sense of accomplishment," Edwards explained.
In 1999, she created the first comprehensive alternative school in Darlington County and the first in the state to offer a JROTC program.
Now at DCIS, she uses the same concept to offer a second chance.
"I don't want them to feel like this is the end. This isn't a dumping ground. This is an opportunity to recreate yourself, flip the script, for you to take the negativity and turn it around," Edwards said.
But she noticed a pattern while trying to help her students.
"They didn't think they could do it, I don't think I'm worthy," Edwards explained.
It inspired her and her sister, Tina Woodard, to create a community organization called I am B.E.A.U.T.I.F.U.L.
READ MORE: I am B.E.A.U.T.I.F.U.L
It has little to do with lipstick, mascara or expensive clothes. Instead, it teaches young girls ages six to 18 to focus on the inner beauty rather than what's on the surface.
"We have to take beautiful away from, 'I need to be this tall, or I need to be this size or my hair needs to be this texture.' No, you need to be who you were made to be, and love yourself, for who you are," Edwards said.
I am B.E.A.U.T.I.F.U.L, which stands for Brave, Energetic, Assertive, Unique, Tenacious, Important, Fabulous, Unequaled and Loved, is centered on building self-esteem and leadership skills in girls and women of all ages and stages.
It started in 2004, and its growth is a testament of its success with chapters in South Carolina, Georgia, and most recently, North Carolina.
"It makes me tremendously special and honored to be able to have the privilege to work with Zenobia and to help these young ladies," volunteer Amy Lewellyn said.
The program provides training support, tools and resources to help create confident leaders. They also focus on teaching STEM and have partnered with the Governors School for math and science and women in the field of engineering.
"My SC girls have gotten to go to Georgia Tech and interface with professors and get some lessons," Edwards said.
College trips, field trips, workshops and leadership conferences had empowered Edwards' students.
"It's letting their voice be heard, we encourage that," Edwards said. "It's exposing them to college readiness, it's exposing them to cultural things, that they may not have had the opportunity to experience it's teaching them how to work collaborative with others."
I am B.E.A.U.T.I.F.U.L is also saving lives.
"Last year, my sister and I got an email from a young lady that was with us… and it was a thank you. It was a, 'Thank you for taking the time to work with me, I am B.E.A.U.T.I.F.U.L saved my life, I was considering suicide,' and she said, 'Now I'm grown, and I mentor girls where I am.' That's why we do it," Edwards said.
Her tireless work, effort and compassion to help students and young girls reach their full God-given potential in life is why Edwards thrives.
When Edwards thinks about her life and the legacy she wants to leave behind, she just wants students to know she championed for them and that she can see their success and what they can be. She said she will help them get there in any way she can.
Copyright 2019 WMBF. All rights reserved.