Myrtle Beach officers provide lunch for nursing home residents after kitchen destroyed by fire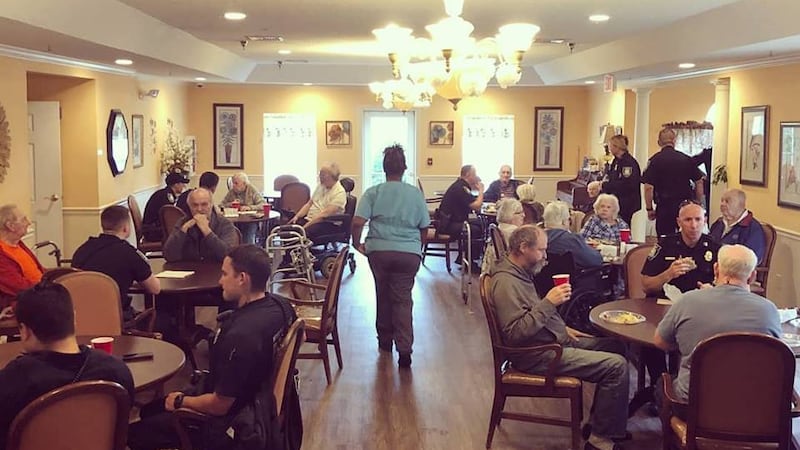 Updated: Feb. 12, 2019 at 12:05 PM EST
MYRTLE BEACH, SC (WMBF) – Myrtle Beach Police officers are building relationships through their service to the community.
Magnolias of Myrtle Beach, a nursing home on 65th Ave. N., had its kitchen destroyed by fire Feb. 4, according to a Facebook post by Myrtle Beach Police Department.
When officers arrived around midnight, smoke was billowing from the building with all residents still inside, the post states. Multiple officers went into the building to help escort people outside. Once safely outside, the officers also made sure the residents were comfortable with chairs and blankets.
While the kitchen was being repaired, the nursing home could only serve cold meals, explained Nancy Bealer, executive director at Magnolias of Myrtle Beach. Fortunately, businesses in the community like Chipotle, Papa John's Pizza and Chick-fil-A were generous enough to donate a few meals to the residents.
Myrtle Beach Police also wanted to do what they could to help. On Monday, one week after the fire, officers returned to the facility, but for a much lighter reason. With the kitchen out of service, Myrtle Beach Police surprised the residents with a lunch catered by Panera Bread.
"It was a really sweet and warm thing that they did. I really appreciate what they did because they go out there every day and they risk their lives so to spend time with them was really wonderful," said Bealer.
The officers sat down with 16 residents and ate lunch with them, sharing stories and getting to know each other.
"The residents just had like a sparkle in their eye," Bealer said.
The same day of the surprise visit, Magnolias of Myrtle Beach received approval from the South Carolina Department of Health and Environmental Control to start using their kitchen again.
Copyright 2019 WMBF. All rights reserved.