Organization holds fundraiser for Florence County deputy wounded in October 3rd shooting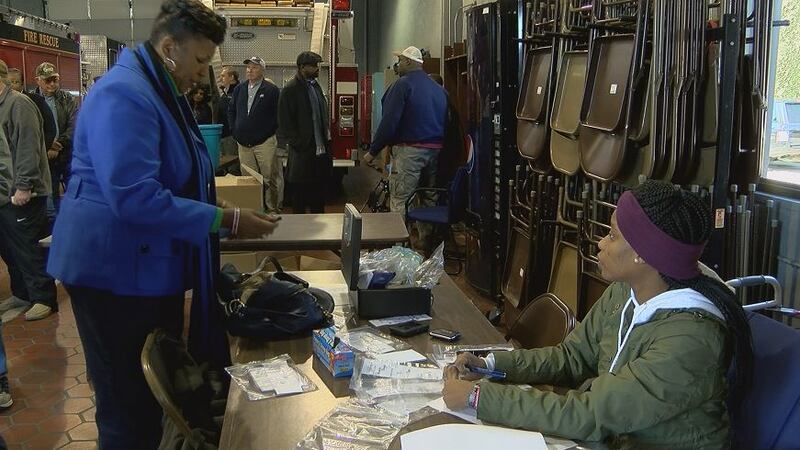 Published: Jan. 31, 2019 at 6:56 PM EST
FLORENCE COUNTY, SC (WMBF) - The Pee Dee Fraternal Order of Police and Pee Dee Lodge 25 held a Chicken Bog dinner fundraiser for Florence County Deputy Arie Davis Thursday afternoon at the Windy Hill Fire Department.
Davis and 6 other officers were shot during the ambush in the Vintage Place Neighborhood. Florence County Investigator Farrah Turner and Florence Police Officer Sergeant Terrence Carraway were killed. The other four officers, including Davis, were injured.
Davis and her family helped out at the fundraiser.
"I just thank God that I'm still here and thank everyone for showing their support," Davis said overwhelmed with the turnout.
"They're all heroes to me so I'm just here to help what little bit I can," said Richard Monzingo who bought three plates.
The dinner plates sold for $8 each. Jessie Rogers, President of Pee Dee Lodge 25, said crews started preparing plates at 8 Thursday morning with hundreds sold by the afternoon.
All proceeds will go towards the Florence County deputy's recovery. Davis was shot in the lower part of her leg during the October third shooting.
"When she left home, she figured she would come home, she never knew what was coming ahead and she's had a lot to go through," Rogers said.
The organization said Davis still has more surgeries to undergo to remove left-over bullet fragments from her foot. Still, the deputy said she's recovering well.
"My recovery going good um it's hard... I'm walking with a walker now, but I'm taking it one day at a time," Davis said.
Davis admitted it's a long road to recovery ahead, but with the community supporting her every step of the way makes the journey a little easier to bare.
"The communities really got involved in supporting Arie Davis and this fundraiser for her and it's been a great outpouring of love and support from the community," Rogers said.
"I just thank everyone from the bottom of my heart. I wish I could tell everybody individually, but I can't… but I love everyone and I thank them so much," Davis said.
Copyright 2019 WMBF. All rights reserved.