Coastal baseball hopes new timing tool sharpens team speed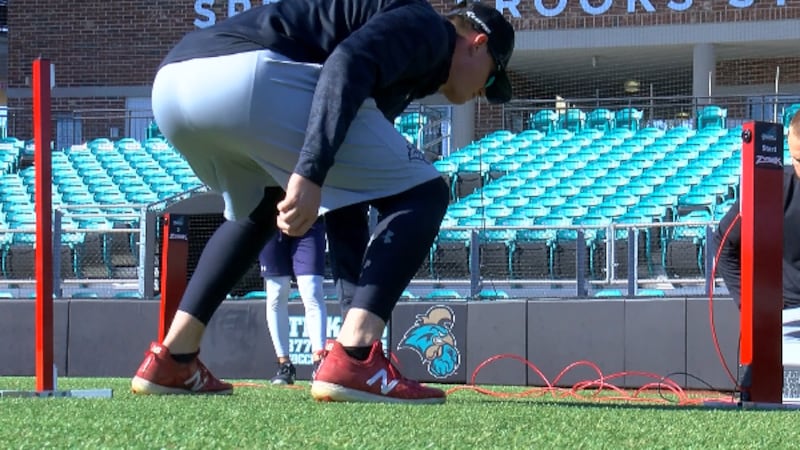 Published: Jan. 17, 2019 at 9:42 AM EST
|
Updated: Jan. 17, 2019 at 9:59 AM EST
CONWAY, SC (WMBF) - Thirty days from first pitch, the 2019 Coastal Caroline Chanticleers baseball squad is still fine tuning its fundamentals in the hopes of another deep postseason run.
With the help of the Zybek Sports timing system, the coaching staff and players are tracking team speed down to the millisecond. In a game of inches, the difference between 'safe' and 'out' could show in the win column.
"Wherever you can find time to cut off, you're gaining an advantage," said former Chanticleers first baseman Woody Woodall. "Speed plays a factor in everyone's game no matter where you play on the field."
"The better competition you play, the faster pitchers can get with their times to the plate," said former CCU infielder Seth Lancaster. "Sometimes that extra tenth or extra tenth of a second means you're either in scoring position or you're out."
Zybek Sports CEO/founder Mike Weinstein said while the system was not originally made for baseball, the pair are a match made in heaven to help fine tune reactionary speed.
"Every single play comes down to a difference in milliseconds," said Nick White, CCU's speed, strength and conditioning coach. "Beating out a play at first, running out an infield single, it could be the difference between winning and losing."
Coastal Carolina is the first D-1 baseball program to use the Zybek timer in a training capacity. The device is well known for timing prospective draftees at the annual NFL Scouting Combine in Indianapolis, Indiana.
Coastal opens its season Feb. 15 hosting the Brittain Resorts Open at Springs-Brooks Stadium.
Copyright 2019 WMBF. All rights reserved.