Questions about previous work emerge for company hired for Hurricane Florence recovery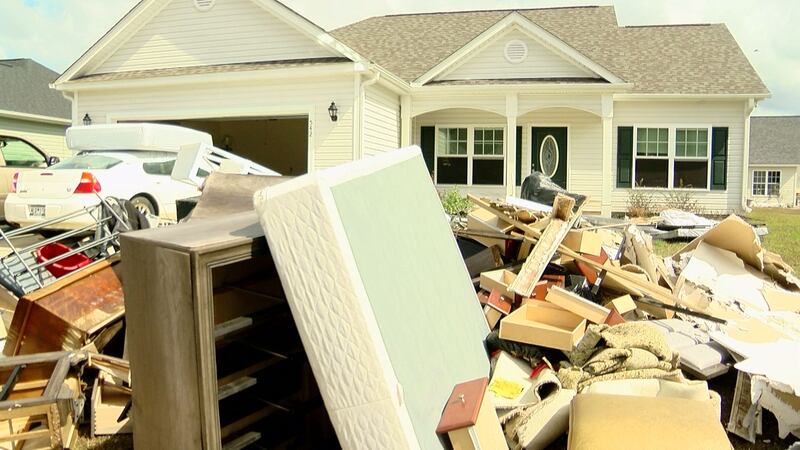 Updated: Nov. 29, 2018 at 7:17 PM EST
RALEIGH, NC (WBTV) - The North Carolina Department of Public Safety has hired a company to administer a portion of the Hurricane Florence recovery effort that a previous state evaluation panel found had a history of previous work that should disqualify it from getting similar jobs in the future.
NCDPS awarded a contract to AECOM earlier this month to administer a hurricane recovery program called Sheltering and Temporary Essential Power, or STEP.
STEP is a federal program funded by the Federal Emergency Management Agency that aims to make quick but critical repairs to homes damaged by natural disasters in order to get residents out of shelters and back into their homes.
A total of five companies submitted completed bids for the contract, a NCDPS spokesman said on Thursday.
The decision to award the contract to AECOM had not been made public prior to WBTV's story.
The company was involved in administering federal funding as part of the Hurricane Matthew recovery effort in 2017 and the first part of 2018; a time when the US Department of Housing and Urban Development labeled North Carolina a 'slow spender' because the state had yet to disburse any of a federal grant totaling more than $200 million.
When an evaluation committee considered AECOM to receive a second contract to administer Hurricane Matthew funds, it noted AECOM's previous performance in its evaluation.
"Concern over staff experience with a controversial project referenced in the proposal," the evaluation committee wrote regarding AECOM in its evaluation for bids in the second Hurricane Matthew recovery RFP.
Related: State officials tried to alter bid documents for multi-million dollar hurricane contract
The decision to hire AECOM, despite its previous track record, has drawn a protest from one competitor.
IEM, a company that bid for the Hurricane Florence recovery project and beat AECOM for the second Hurricane Matthew contract, has filed a formal protest of the decision, according to a letter obtained by WBTV.
"AECOM cited its experience in North Carolina after Hurricane Matthew and its experience with the STEP program in the U.S. Virgin Islands," the protest letter from IEM said. "But both of those experiences reveal more challenges and problems than successes."
"Over the course of more than a year, AECOM and ESP Associates failed to serve homeowners affected by Hurricane Matthew," the letter continued.
A spokesman for IEM declined to comment on the letter when contacted by WBTV.
A spokeswoman for AECOM acknowledged WBTV's request for comment for this story but did not provide one.
Related: NC has spent $0 of $200 million grant to rebuild homes damaged by Hurricane Matthew, report says
A spokesman for NCDPS provided a comment but did not address specific questions about AECOM's performance history.
AECOM was selected as construction manager for the STEP program by a four person panel made up of a budget analyst, an engineer, a chief finance officer and a representative from North Carolina Housing Finance. Emergency Management was not involved in the selection process," spokesman Greg Thomas said. "The panel received seven proposals for the program construction management contract; two proposals were incomplete and the remaining five were reviewed before the selection was made."
Copyright 2018 WBTV. All rights reserved.