Residents report looters in flooded neighborhood
Updated: Oct. 8, 2018 at 11:12 PM EDT
LONGS, SC (WMBF) -Residents in the Polo Farms neighborhood caught people stealing belongings on a surveillance camera days after they returned from the flood.
Neighbors on Irees Way said two men with a truck, trailer and car stole items from outside their homes.
The footage was captured around 2 a.m. on October 2.
Resident Wendy Lewis said the men were not just taking items left at the curb but going up near houses.
"They went up to my house, took down my tarp, took my TVs, lawnmower, our children's bikes," Lewis said.
After more than a foot of water entered Lewis' home, she had very little left to save.
The piles of damaged belongs on the curbs throughout the community, reveal a similar experience throughout the neighborhood.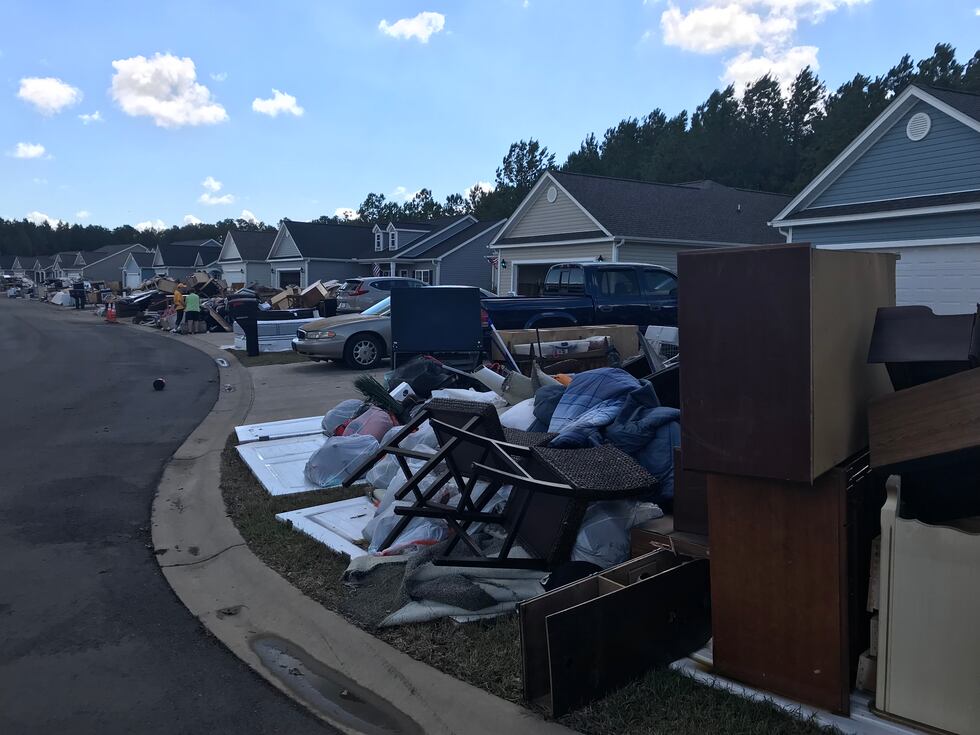 Resident Mary Oglesbee said the current neighborhood setting is "creepy".
"You come in early in the morning and there is nobody here. Usually there's people out in their driveways and they wave to you when you leave for work. It just feels really creepy, uneasy," Oglesbee said.
Many of the houses are now gutted throughout the area and are currently unoccupied. Residents say while much of the furniture and items on lawns is damaged, not all of it was meant for trash.
"We weren't thinking when we got flooded out. We just wanted to get everything out of the house, get it dry and try to keep it," she explained. "We didn't even think about people coming to steal it from us."
Lewis said the neighborhood usually has no problems with burglary.
"Knowing that they were around here doing that just makes you feel violated, because you had your windows opened, you had to open up all your windows," Oglesbee said. "They could have come in and done anything."
Residents said tools, toolboxes, wheelbarrows, kitchen appliances and a guitar were also taken. Lewis estimated every few homes in the area had something stolen.
"It's heartbreaking to know that people would come in after we've already been victims of this flood and just take the last of what we had," Lewis said.
"It's really awful because we lost almost everything and what we do have is getting looted," said another Polo Farms resident.
Horry County police officers began patrolling the neighborhood's entrances in the middle of last week as residents work to clean-up their homes. The police are asking for identification for those who enter the area.
The Horry County Police Department said it does not have any police reports on file for the incidents. Some residents said they did call the police, while others said they didn't think a police report would help. According to residents, the suspects are still not caught.
Lewis is hoping the individuals can be identified and stopped.
"No one deserves to get stolen from and especially after a flood," she said.
Copyright 2018 WMBF. All rights reserved.